Sir Michael Wilshaw (Chief Inspector of Ofsted) visited Birmingham Electrical Training on 21 October. BET had been approached by Ofsted as a representative of a "Good" provider to host a visit to coincide with the launch of Ofsted's report into Apprenticeships: developing skills for future prosperity. Following BETs successful inspection in June 2015 Ofsted recognizes that BET is a unique training provider which delivers a high value apprenticeship, which contributes to the needs of apprentices, local employers and the wider economy.
The report highlighted that many courses are failing to give learners the skills and knowledge that employers are looking for. Too many low skilled roles are being classed as apprenticeships and large majority of apprenticeship starts are over the age of 25. The Governments promise of 3 million more apprenticeships, the apprenticeship brand has been damaged and diluted in the eyes of school leavers, parents and employers. The surge in apprenticeships has been in admin and social care rather than the rigorous areas such as engineering and construction.
BET offers an advanced electrical apprenticeship, over 3.5 years provides apprentices with the skills and experienced needed by employers and providing a lifelong industry endorsed qualification at completion.
Sir Michael was able to chat to John Sims (Managing Director) and senior staff about apprenticeships that BET deliver and how BET distinguishes itself as a leading apprenticeship provider. He also discussed at length the finding of his report that too many apprenticeships are not leading to proper jobs or delivering the skills that the economy needs for growth. He was encouraged, from speaking to staff and students, that the apprenticeship BET offers bucks this trend and provides a high value skilled apprenticeship for students and employers.
Sir Michael observed 3rd apprentices carrying out a task in the workshop and was able to talk to apprentices regarding their experience of their apprenticeship and the support and advice they were given by BET and their employers. Sir Michael also chatted briefly to 1st year apprentices (BET/D/15) about career advice received in schools something which had been highlighted as inadequate in the report.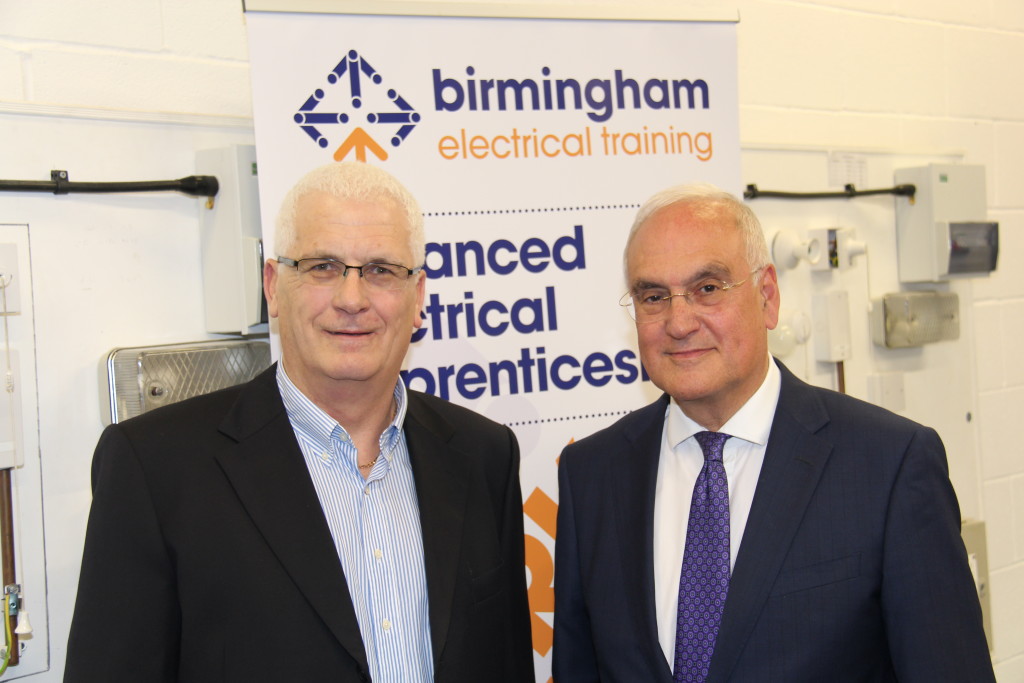 John Sims (BET Managing Director) and Sir Michael Wilshaw (Oftsed Chief Inspector)
We would like to thank all the apprentices for their participation in the task and their employers for releasing the apprentices for the day.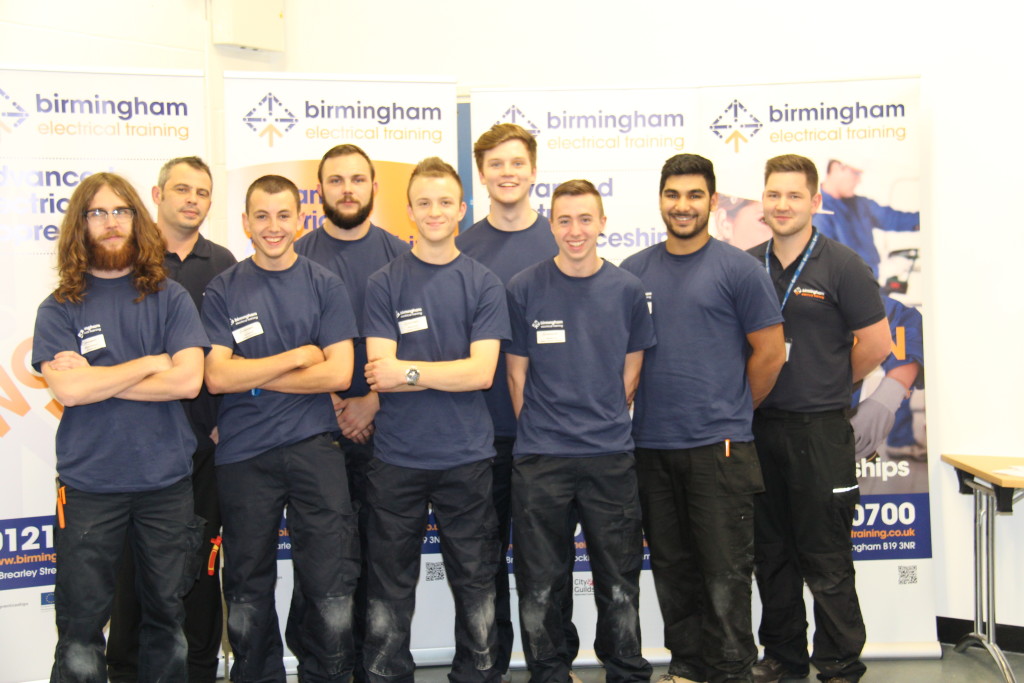 Apprentices and Tutors left to right:  Front: Nicolas Haslam (PC Evans Ltd), Jack Harrison (Daybury Electrical), Michael Link (Goodwin & Price), Craig Merricks (Walter J Parson) Inderjit Moore (Midland Recruitment), Bradley Jones (BET Tutor)
Rear: Lee Miles (BET Tutor), Luke Overton (Electrical Contractors Ashfield ECA) and Edward Lambert (Regal Electrical)
Sir Michael spoke at the CBI conference the following day during which he mentioned his visit to BET
"Yesterday, I met a group of apprentice electricians at Birmingham Electrical Training. They had a tangible sense of pride in what they were doing. They were being well supported by their training provider and could see a clear path to future employment"
He also praised providers such as BET who work with local employer's deriving a recognized qualification that meets their future skill needs.
If you would like some further information on how your business can benefit from taking an apprentice, please contact Jack Sims Business Development Manager (jack.sims@bet.gb.com or 0121 616 0700