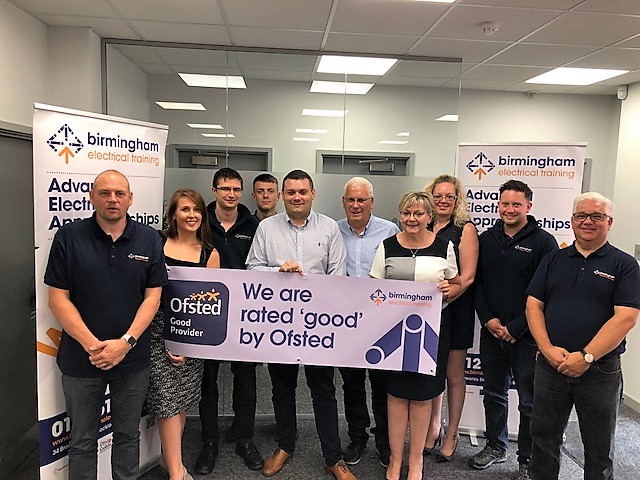 Birmingham Electrical Training (BET) is pleased to announce, following a Short Notice Ofsted Inspection on 2-3 May 2018, that once again we have been rated as "Good" by Ofsted for our Apprenticeship Training Provision.
Inspectors from Ofsted spent two days reviewing teaching, assessment and support provided by BET for our Electrical Apprentices. This involved observing lessons and reviews, interviewing staff, managers and apprentices. The successful inspection demonstrated the success of key policies and initiatives put in place to make sure that apprentices receive a high level of training which prepares them well for a career within the Electrical Industry.
Over the past 2 years, BET has grown the Apprenticeship provision by over 30%, meaning BET is now training more apprentices than ever before. Increasingly more employers are training with BET to ensure their apprentices get the very best industry focused electrical training.
BET was praised for very high apprentice success rates, good levels of teaching and assessment that meets employers and apprentices needs and high levels of support from staff.
John Sims, Birmingham Electrical Trainings MD commented on this news "This is great news for BETs Staff, apprentices and employers. This Good grade from Ofsted reinforces BET as a leading electrical training provider, allowing us to be ambitious for the future, continuing to improve and provide employers and apprentices with high quality, employer focused apprenticeship training".
If you would like to read the full inspection report, please follow the below link:
https://reports.ofsted.gov.uk/inspection-reports/find-inspection-report/provider/ELS/50713