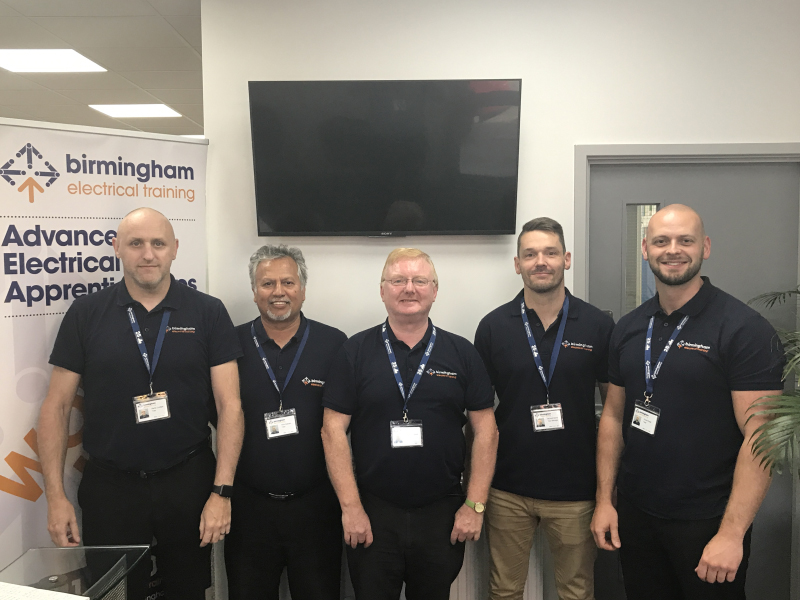 (From Left: Martin Corfield, Sarb Matharu, Brendan Dougherty, Richard Harvey and Dave Powell)
Summer has been a very exciting period for Birmingham Electrical Training as we have been developing our learning facility, introducing new courses and expanding our training team.
Over the past few years BET has continued to grow; more apprentices are enrolled to train with us than ever before and we remain committed to supplying staff who are equipped, experienced and enthusiastic, to meet the ever increasing demand. Every tutor employed by BET is a well-practiced electrician passionate about their profession and determined to deliver the highest quality of training to the next generation.
From his first day at Birmingham Electrical Training, Tutor Manager Richard Harvey continues to impress with his dedication and dynamic teaching style. Richard has joined us from Tresham College and his 22 years of experience within the electrical trade is demonstrated in his confident guidance of the students. As an ex-apprentice himself, Richard is able to empathise with the apprentices and serves as an excellent example as to what they can achieve if they are committed to their training and development as an electrician.
Richard joins Sarb, David, Martin and Brendan to enhance our current team; they have a wealth of onsite and classroom experience to give the very best teaching to our students. Each individual shares the values of BET and we are excited to witness the outstanding results promised from their diverse teaching.